Some say the marketing plan is dead: the world just moves too fast. Just throw stuff out there; it will all work out.
We say good luck with that.
Successful business owners know their good customers, their bad customers, and their mediocre customers. They know more about their competitors than their competitors know about themselves. They never stop gathering information that will help them succeed in the marketplace. They use this information to reach new customers, retain existing customers, and grow their overall customer base.
Ask Yourself The Following Questions:
Are your current marketing efforts delivering satisfactory results?
Is everyone on your team working together, or are team members at odds with each other?
Are you using the "right" mix of social media, SEO, PR, PPC and other components to reach your target audience effectively and regularly?
Is your marketing budget in line with your overall business objectives (and your competitors)?
Are you moving forward, or slowly falling behind?
Do you have a marketing strategy, or just throwing spaghetti at the wall and hoping it sticks?
Marketing Planning is More Important than Ever
Every successful business has a detailed, strategic and tactical marketing plan. Most struggling businesses don't.
On the other hand, it is true that even the best marketing plan's shelf life is much shorter than it was in the past. Globalization, technological obsolescence, and social, political, legal and regulatory changes occur on timescales that were inconceivable in the past. The end result is that every business, even ones in traditionally slow changing sectors such as manufacturing or transportation, has to adapt much faster than before.
So the idea of creating a 5 or 10 year marketing plan that only needs minor tweaks every few years, is unworkable.  Most businesses require a quarterly review with minor adjustments, with a major review (and possibly major adjustments) once a year.
Benefits of a Solid Marketing Plan
Higher marketing ROI — your marketing dollars go much farther
Increased customer retention — which also leads to lower marketing and sales costs
Lower management costs — less time spent chasing "new opportunities", more time spent on sustainable business growth
Improved business intelligence — you understand your competitors and your customers better, so you make better decisions
Higher profits — and better positioning within the market as leaders rather than followers
Our Process
Our marketing planning process consists of 4 stages (or 9 steps):
Market Research
Accurate, current market research makes a difference. Without it, you risk wasting money and time delivering the wrong products at the wrong price with the wrong message to the wrong customers.
Analysis and Planning
We'll develop a marketing strategy that differentiates your business from your competitors. We'll synthesize and analyze findings; differentiate your company from competitors in ways that are meaningful to customers; determine your target markets through data mining; define (or refine) your company's value proposition; align your organization to close performance gaps, and help your organization deliver the value you promise.
Once the marketing strategy is in place, we'll develop a detailed tactical plan for executing the strategy. This includes marketing channel selection, customer segmentation, product/service mix, price, promotion, processes, and customer service.
Implementation
Then, we'll help you execute by translating your marketing plan into action through all aspects of the marketing mix: Search Engine Marketing (SEM), Direct marketing, Pricing, Advertising and promotions, Public relations initiatives, Sales support materials, and Event planning).
Measuring Results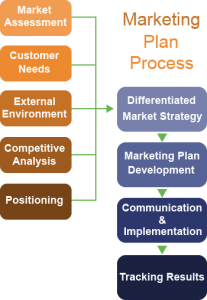 To be successful in the long run, you need to establish metrics to track results and continually refine the approach.
Your tracking system can be as simple as one or two Excel spreadsheets, or as elaborate as a complete executive marketing dashboard.
Our marketing planning process can be tailored to your specific needs. Generally the larger the business, the more involved the marketing plan. But even if your company is small or in the earliest stages of development, we can help you increase revenues and profits.
Contact Us now to set up a free initial consultation!